"You will need more than 5 days in the Mother City, there are too many things to do in Cape Town!"
Those were the words the Nelson, my South African friend, told me when I smiled at him announcing that I'd be staying 5 full days in Cape Town. Interestingly, I thought I'd receive a nod of approval at the news. After all, 3 days really is the most I spend in any city – well, except of Tel Aviv, that is. I just can't help it: after a while, I itch to leave. But everyone told me that there's so many places to visit in Cape Town that I had decided to factor in 5 full days.
Evidently, Nelson had a different opinion. He insisted I'd need at least two weeks to get to know Cape Town. He was right. I ended up going twice within 4 months as I couldn't get enough of all the things to do in Cape Town. Sure enough, this city is nothing like Johannesburg (here's what I managed to do there in just one day). It took me a split second to fall in love with Cape Town, as I stared at the view on my way to town from the airport. So much I enjoyed my time there that, a day after coming back to Sardinia (just enough time to rest after traveling for 28 hours) I bought another flight to go again. Yes, there's too many things to do in Cape Town that multiple visits are recommended.
Keeping in mind that I recommend spending 2 good weeks in the city, this post will highlight what to do in Cape Town to make the most of it. Following up a second visit, this post has been updated to include more Cape Town attractions. If you like the idea of a local guiding you through his/her city, you can book your personal local guide in Cape Town.
Incredible Things To Do In Cape Town
Explore the V. and A. Waterfront
The first thing I typically do whenever I get to a new place is walking to the market. I intended to do this in Cape Town too, and started making my way to Oranjezicht City Farm. This is meant to be one of the places to visit in Cape Town. I thought it would be a good place to get fresh produce to cook dinner at my hostel that night.
But then, on my way there I went to the V&A Waterfront and it was so much fun to explore that I just stayed there for a few hours. Exloring the V&A Waterfront is by far one of the coolest things to do in Cape Town. This is the oldest working harbor in the Southern hemisphere, and the entire area is scattered with interesting attractions (ie the Clock Tower, or Robinson Dry Dock – they can all be visited during the walking tour that departs every 30 minutes from Chavonnes Battery Museum).
There are supposed to be beautiful views of Table Mountain too, but it was overcast when I visited and the view was blocked by a thick layer of clouds. The Food Hall of the V&A Waterfront is one of the coolest Cape Town tourist attractions But there's more. The V&A Food Market is a great place to grab a bite or more. There's just about any kind of food one may possibly want – healthy options, vegetarian and vegan options, meat and seafood as well as the most decadent pizzas and desserts. If eating is one of the things to do in Cape Town, this is where to do it.
Last but definitely not least, V&A Waterfront is a fantastic place for shopping. Not only there's an enormous shopping mall, but there's also a great market right behind the Food Market, called Watershed. This is more of a crafts market, with anything from clothes to art pieces. I am hardly a shopaholic, but I must admit that I found visiting (and shopping at) the Watershed one of the most fun things to do in Cape Town.
Eat
Who knew that the food in South Africa would be so tasty? Cape Town is one of the best destinations I have been when it comes to food, and no matter your tastes, your budget, your dietary requirements, you are bound to find something delicious. One thing I recommend doing is joining a braai – a South African style barbecue. It's not vegetarian friendly, so perhaps not a good idea if that's your diet. If not, you are bound to have a blast. Needless to say, it comes with lots of wine and beer! I also recommend taking a food tour.
Walk around Bo-Kaap
One of the simply unmissable things to do in Cape Town is visiting Bo-Kaap. This neighborhood is located at the foot of Signal Hill and is famous for the bright colored houses and cobblestone streets. It's where the Muslim community (the Cape Malay) of Cape Town is concentrated, so it is not uncommon to hear the call to prayer coming from mosques (though I have to say, the area is actually quite multi-cultural).
Bo-Kaap was originally established as a slaves quarter by the Dutch. Here there's the oldest mosque of the southern hemisphere, Auwal Mosque (which was built in 1793). The area is scattered with nice cafés and restaurants, which serve Cape Malay food – an interesting fusion of local and Malaysian flavors.
If people's watching is one the coolest activities in Cape Town, Bo-Kaap is definitely a good place to do it. I spent quite some time at the balcony of a lovely corner café, drinking roibos tea and just admiring the bustling local life.
Hang out on Long Street
A walk on Long Street is one of the unmissable things to do in Cape Town. I walked along Long Street every day when I was in Cape Town, either on my way to other places, or just to enjoy the interesting architecture (I love the Victorian style ironwork balconies), to browse the many lovely shops, or to get a bite in one of the many fantastic restaurants in the area.
If partying is one of the most fun things to do in Cape Town, Long Street is where to do it. There's many bars with live music.
A note of warning about Long Street: there's no denying that it is a bit dodgy, day and night, with persistent beggars that follow passersby (it happened to me every time I walked there), and occasional fights. If keeping your eyes open is what to do in Cape Town to stay safe, this is definitely the case for Long Street. More about how to stay safe in Cape Town later.
Visit Kirstenbosch Garden
Kirstenbosch Garden is one of the most famous places to visit in Cape Town, and quite rightly so: this botanical garden is one of the most beautiful in Africa, and a UNESCO World Heritage Site since 2004. The park is enormous, and a fantastic place to have a picnic on a sunny day. It's a venue for concerts, art exhibitions and more.
The Centenary Tree Canopy Walkway is one of the most famous Cape Town attractions. I managed to walk across it before leaving. Indeed, unfortunately, during my time in Cape Town the weather was not very cooperative: it was cold and rainy, so I had to cut short my visit to Kirstenbosch.
Kirstenbosch is a stop along the Hop On Hop Off bus in Cape Town, so it's fairly easy to reach it.
Go to Groot Constantia
One of the unmissable things to do in Cape Town is visiting Groot Constantia. This is a fantastic wine estate, one of the oldest ones in the country. It was established in 1685. It is located in Constantia Valley, an idyllyc place named after Governor Simon van der Stel's daughter which is very easily reached even on the Hop On Hop Off bus.
The grounds of Groot Constantia are simply gorgeous (beautiful views, impressive vineyards). There's two fantastic restaurants (Jonkershuis and Simon's) and historical buildings to explore. I was a bit unfortunate with the weather when I visited, so I just took it easy having lunch at Jonkershuis (I think I had one of the best salads ever!) and then went for the wine tasting tour (one of the best things to do in Cape Town, anyways!).
The wine tasting at Groot Constantia includes a guided visit with a detailed explanation on the history of the vineyard; on how the wine is made and finally a wine tasting which includes five earthy samples of wine. This is definitely one of the nicest places to visit in Cape Town.
Take the Hop On Hop Off Bus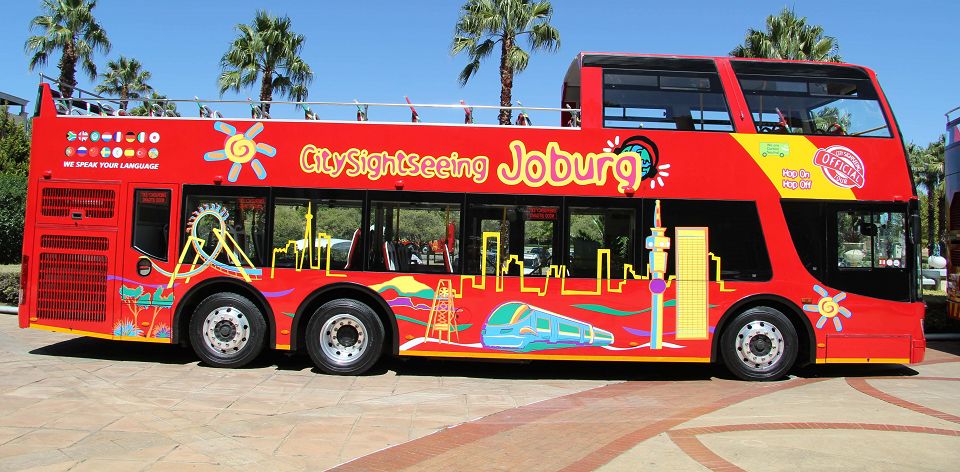 I've never been keen to take the Hop On Hop Off bus, until I actually tried it, in Cape Town, and finally got the point. It's a super easy way to get around town, get to all the most important Cape Town attractions, while listening to some explanations about them, and it saves a lot of time and effort (and money) to move around.
There's several places around town where to get the tickets and where the bus stops. There's also various routes. I got on at Long Street and took the blue line, that goes to Mount Nelson, Kirstenbosch Gardens, Constantia (where I connected with the pink line to explore the valley), as well as Mariner's Wharf (Hout Bay) and the V&A waterfront.
I recommend to get on nice and early as there's really a lot of places to visit in Cape Town along the route. The views from the bus are stunning! Here's where to get tickets online:
Explore Cape Point Peninsula
One of the most popular things to do in Cape Town is touring around Cape Point Peninsula – this is part of the Cape Floral Region, a UNESCO site. It's a full day trip, and a great one I should add. The first place to stop when exploring Cape Point Peninsula is Hout Bay. From Mariner's Wharf it's easy to access the harbor and get on a ferry that goes to a fur seal colony – they are a fun sight.
To be fair, there are also a few hanging right at the harbor, along with some guys who claim to be their owners and demanding money in order to take pictures. Hout Bay is a gorgeous beach per se, so I recommend going even just there as it's one of the nicest places to visit in Cape Town. Driving away from it more into the Peninsula, there's a viewpoint where it's nice to stop for photos. The view is simply stunning. Biking around Cape Point National Park is one of the coolest things to do in Cape Town – the views of the ocean along the bike ride are beautiful, and there's chances to see quite a few animals, including ostriches, baboons and even zebras.
Yet, the best stop on a Cape Peninsula tour is Cape Point, where it is possible to walk all the way up the lighthouse. Hiking up is what to do in Cape Town to get breathtaking views. The walk is made more fun by the baboons that are everywhere – though it's important to remember that they are feral animals, so they should never be fed and never get too close to them.
Right below the lighthouse, an easy trail leads all the way to Cape of Good Hope – simply one of the most famous Cape Town attractions.
Admire the penguins at Boulders Beach
I had seen the penguins years ago when I went to Peninsula Valdes, in Argentina. They are such cute animals, I like them so much, that when I found out that there's a penguin colony at Boulders Beach, in Cape Town, I told myself I could not miss the opportunity to see them. Yes: going to Boulders Beach is one of the things to do in Cape Town.
Boulders Beach is gorgeous: it has incredibly fine, white sand and the clearest waters one could possibly hope for. Sure enough, the penguins got themselves a sweet spot. The whole area is invaded with them. They are highly protected, but as they are everywhere it's very easy to take good photos. Going to Boulders Beach is what to do in Cape Town to admire some wildlife (on a side note, depending on the season it's also possible to see whales and whale sharks).
Go to Table Mountain
Hiking Table Mountain is possibly the best of all the things to do in Cape Town. I wish I could say I did it – except I haven't. The weather was so bad when I visited the first time (cold, raining) that the most I saw of Table Mountain back then was the view from Stellenbosch on a clear day. As it was impossible to hike, I decided to go up on the cable car, only to realize that all I could see was fog. I couldn't see anything around myself, let alone the iconic view of the city.
So, here's a few tips to visit Table Mountain: don't go up (not even on the cable car) if the day isn't clear. It's a real shame to make all the effort to get up and realize that there's a visibility of no more than 5 meters. Checking the weather broadcast and the regularly updated cable car report is what to do in Cape Town in order to decide when to visit. At times it is so windy that the cable car doesn't even run.
Thankfully, the day I arrived in Cape Town on my second visit the weather was much better and I managed to go up. There is a good reason people say this is what to do in Cape Town for nature and adventure lovers: the view from up there is breathtaking. There are paths that go all around it, offering views of Lion's Head, the Twelve Apostles, the city and much more. Make sure to stay long enough to take in the sunset views. It's worth the line at the cable car to go back!